StreetSmart is an organisation dedicated to providing funding for local grassroots organisations helping people experiencing or at risk of homelessness.

StreetSmart run innovative fundraising campaigns working closely with the hospitality industry. Funds are distributed locally to where they were raised, so businesses involved see real benefits within their own communities.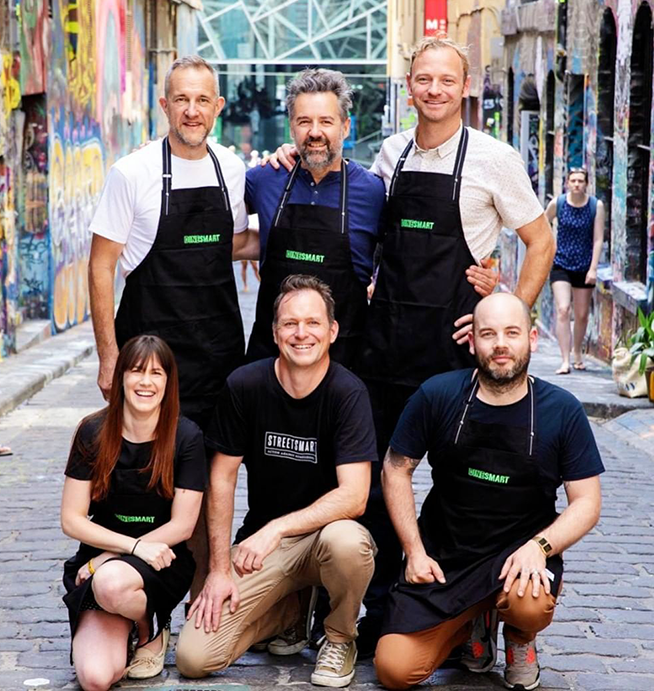 DINESMART
DineSmart unites restaurants across Australia and their diners to help fight homelessness. SIGN UP NOW
Between November and December each year participating restaurants offer diners the option to make a $1 donation per person to StreetSmart on top of their bill.
In 15 years that the DineSmart campaign has been running, restaurants have raised more than $4.5 million!
Cargo Crew have supported DineSmart by spreading the word amongst our amazing network of talented restauranteurs. In addition, we've provided StreetSmart's team of ambassadors from restaurants such as Ladro, Higher Ground and Mamasita with specially branded Aprons to help promote the event.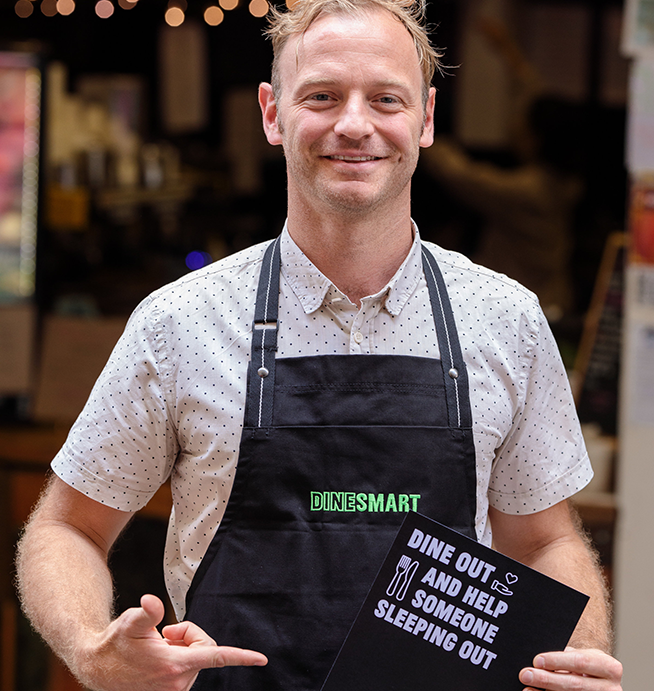 Top Paddock, Higher Ground & Kettle Black
"We are long-term supporters of StreetSmart and the DineSmart campaign. We get approached to participate in lots of charity work, but for our team, the work StreetSmart does with local homelessness services to address real gaps in funding is what sets it apart."
CAFESMART
CafeSmart runs on the first Friday of August every year and unites roasters, cafes and coffee drinkers to help support their community over a cup of coffee.
Participating cafes donate $1 from every cup of coffee sold to StreetSmart, with Coffee Roasters getting behind their cafes by providing beans for the day.
Participating coffee Roasters get behind their cafés by providing beans for the day.
Cargo Crew have been proud to support CafeSmart since 2017, sponsoring prizes for cafes making the biggest impact on the day. in 2019 the funds cracked $190,000 rasied!
In 2017, the team from Yellow Bernard Cafe in Hobart, TAS were the top fundraisers across Australia! The crew were decked out in gorgeous new Barkly Denim Aprons for their incredible efforts.
Learn more and get involved in the next CafeSmart! streetsmartaustralia.org/cafesmart
ALL STARS DINNER 2017
Cargo Crew were delighted to support the 2017 All Stars Dinner supporting Street Smart.
The dinner was hosted at Ladro in Prahran, where the Front of House All Stars of Melbourne's finest restaurants (Mamasita, Ezard & Supernormal to name a few!) donated their time & produce to put on a spectacular dinner for guests.
Cargo Crew provided each AllStar with their own branded Barkly Bib Apron to wear for the evening. At the end of the night, the aprons were sold at the charity auction, raising a staggering $2700 for StreetSmart!
Overall, the Front of House All Stars evening raised a total of $42,000 for the organisation; a fantastic contribution from an incredibly talented team.
To find out more about StreetSmart visit www.streetsmartaustralia.org