Denim remains an industry favourite for stylish and durable workwear, but it wasn't always the fashion statement it is today. This fabric was created to withstand strenuous working environments and over the years it evolved from functional workwear to fashionable statement wear.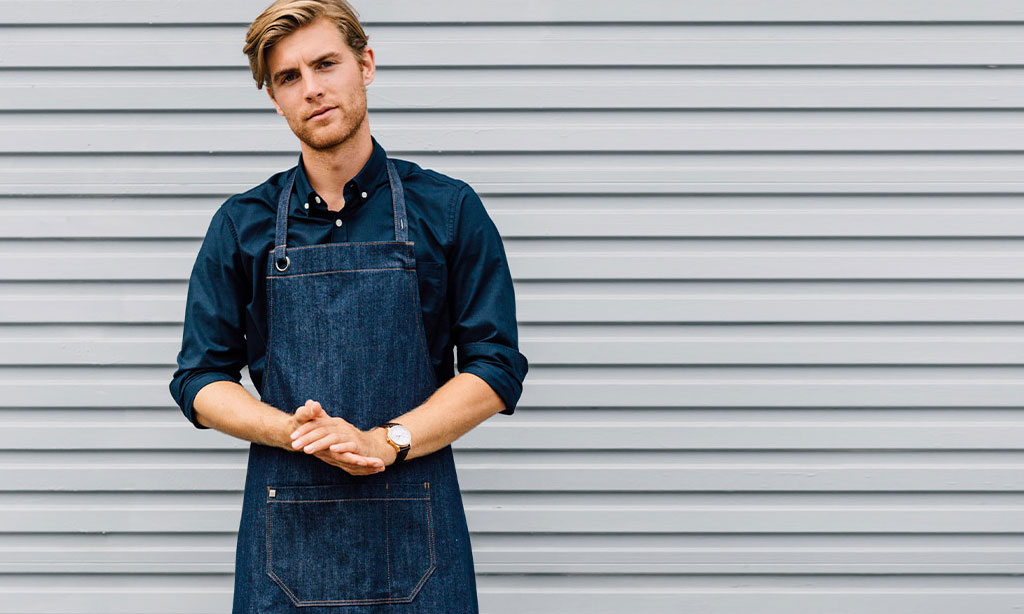 Our denim aprons, like our RE-STYLED original Harvest Apron, are crafted from premium cotton to ensure your working garment is as fashionable as it is practical. Read our brief history of denim below to find out more about this iconic fabric.
History Of Denim
Denim was historically created for workers like tradespeople or miners who needed durable, long lasting fabric for their day to day tasks. Rivets and hardware detailing was used to reinforce seams and add strength to the pants for functional purposes.
American tailor Jacob Davis and Levi Strauss crafted the Blue Jean in the 1870's. They were employed to make a work pant with rivets that helped reinforce the fabric. These details made the fabric stronger for workers who were tough on their clothing. Levi Strauss supplied the fabric used and so The Blue Jean was created.
It wasn't until 1970's that denim and jeans were properly accepted widely as everyday dress for both men and women. This secured the items as staple pieces in every wardrobe since.
Facts About Denim Fabric
Denim is a heavy twill weave constructed by a white yarn that runs the width of the fabric and passes under 2 or more indigo yarns running the length. This makes the indigo yarn more prominent creating the traditional texture and weave.
The yarn has a very strong twist making the fabric more durable. The yarn is twisted so tightly the indigo dye usually only colours the surface. Over time the dye on the surface begins to fade from wash and wear, exposing the white yarn underneath and providing the denim character that comes from continuous wear.
Traditionally made from 100% cotton makes denim a comfortable fabric to wear. Cotton feels naturally softer and is more breathable than other fabrics like synthetic fibres. Meanwhile, twill weaves have a slight natural stretch that provides comfort and ease of movement.
Historically, the dye used to make indigo denim was produced by plants, most famous from the plants of genus Indigofera and so the indigo colour/shade itself was naturally produced. Now we use synthetic indigo dye to achieve the same traditional colour created by the plant. Dye is now man-made to improve its quality and colourfastness.
Our Harvest Denim
Our Harvest aprons are made from a heavier 11oz denim that, due to sturdy weight, is stronger and more durable.
The denim is a traditional indigo and black colour designed to grow in character over time with wash and wear. Colour will develop as you wear providing individuality and personality to your apron.
Using 100% cotton means fabric will soften over time with washing as well as fade and grow in character.
It's made from a traditional twill weave that is stronger because of the high twist of yarns. It also has a slight natural stretch due to construction of yarn.
Shop the Cargo Crew range online today, or to see our beautiful collection of designer uniforms up close visit our showroom! Speak with our friendly client care team for more information: +61 3 9411 9850, [email protected]